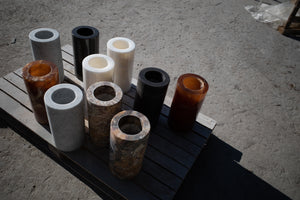 Introducing 'Casa Collection' – An art inspired range of marble homewares
25.05.23
Just Adele, forays into homewares launching a new collection of functional art for the home named 'Casa Collection'. 
 The first objects in the collection are cylindrical vessels in five unique stone types with each stone hand selected by Adele for its rarity and distinctive natural characteristics. 
The pieces were all designed by Adele and then brought to life by her trusted artisans in Italy, who have spent decades perfecting their craft. Each vessel is hand-carved from five blocks of natural stone: Black Onyx, White Onyx, Amber Onyx, Bianco Carrara and Breche de Vendome. 
 "For the Casa Collection, I wanted to source stones that were rare or unusual to find in Australia. 
 "I worked closely with my stonemason in Italy throughout the whole process to ensure the interesting and unique features of each stone were facing on the outermost part of the vessel where it would have the most impact," said Adele. 
 The collection was an eight-month process from design to final product, with each vessel cut, hand-carved and polished with delicate precision to ensure the natural features of the stone remained prominent. 
 The vases are designed to either stand alone as a sculptural feature or be adorned with foliage and florals, with a fully sealed inner chamber that can hold water. 
 The Casa Collection vessels are a limited edition run, with only small quantities of each stone sourced to create these pieces. There are 10 vessels in total, with two available in each stone type. 
The vases are currently available online or in our Richmond gallery. Please contact our gallery at ciao@justadele.com if you would like to find out more details on the collection.
photography credit: emil kuliev