Exclusive stone furniture atelier for ready-made collections and bespoke designs, just for you.
GIORGIO CONSOLE
Introducing the Giorgio Console; a limited edition of 12.
Carved from a solid block of Viola Monet and handcrafted to order by Italian artisans in Italy, just for you.
Explore more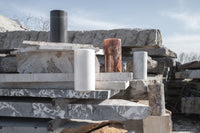 CASA COLLECTION
Handcrafted in Italy by local artisans, with stone you can only find in one place. Influenced by the Italian art of living.
A limited run of vases in five unique stones that were hand selected by for their rarity and rich textures.
Explore the collection
Just Adele gallery
Ciao Melbourne,

We welcome you to our Richmond gallery for a more intimate look at our collections or to discuss a bespoke piece of furniture that is uniquely for you.
Monday to Saturday by appointment.
Visit our gallery