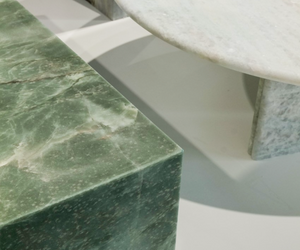 Introducing the Limited Edition Collection
01.12.22
Born from a love of sourcing unique stones, the Limited Edition Collection is an evolution of the Just Adele brand and an opportunity to delve into previously unexplored territories.
Whilst the core collections will always be at the heart of brand, the Limited Edition Collection is about discovery of new types of stones and shapes.
For the first pieces designed for the collection founder, Adele, sourced slabs of stunning Luce Blue Marble, Emerald Quartz and Red Travertine that were made into side tables, plinths and a low coffee table.
"I was drawn to the striking colours of the different stones that are quite unusual in comparison to our signature colour palette."
"I wanted to create pieces that would make a statement and have the power to transform an ordinary room into something memorable" says Adele.
As the name suggests, the pieces are all one-offs, or one-of-two, so will only be made once unless requested as a bespoke order. As new and unusual stones are sourced, these too may be considered to create a piece for this collection.
All the pieces are linked via the corresponding images below. If you would like to know more about the collection, please contact us at ciao@justadele.com.au.