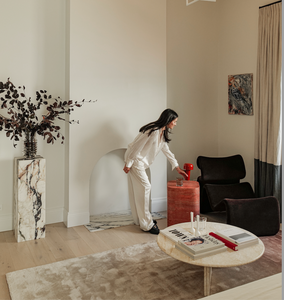 Mixing Marbles
04.09.23
Mixing marbles is a technique that can add depth and interest to a space, and one that I love to experiment with in the right environment. The key to successfully mixing or layering multiple stones in the same space is to understand the different characteristics of each type of marble and how they can complement or contrast with each other.
In my own home, I like to start with a neutral palette so that I can add multiple stone types without making the room feel disordered or chaotic. Clean white walls, pale timber flooring, white couch and soft linen curtains with a navy trim was my base palette. From there, I layered in stones and marbles to bring the room to life.
The fireplace hearth has a custom piece of Arabescato whilst the ornamental pieces include a Viola Calacatta Grande plinth, Sofia Side Table in Red Travertine and the Onda Coffee Table in Spider. Playing with different styles and colour of stone is my favourite way to mix marbles within my home. Additionally, I would add that combining different textures – such as honed marbles paired with polished marbles – can created beautiful subtle contrast. I would also recommend layering in pieces at varying heights, such as I have done in my own home.
In essence, my advice would be to start with a neutral base and then experiment with colours, finishes, textures and shapes of varying heights to create a beautiful and sophisticated interior landscape. Your interior is an opportunity to express your personal style.
Adele x