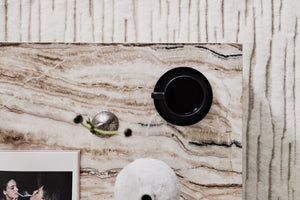 Styled by Karin
28.09.21
Styled by Karin
Just Adele sits down with Karin Bochnik to talk all things design.
Working across residential and commercial spaces, Karin Bochnik is an interior decorator with a specialty in shoot-styling and editorial aesthetics. Her intelligently minimalist view and her penchant for bespoke pieces have garnered her work and attention in multiple fields. We sat down with her to discuss her genesis in design and her affiliation with Just Adele.
Can you walk us through the journey of your styling career?
 I've always enjoyed good design. I remember at a very early age feeling the intuition of design's role in making homes feel like home. I actually started my journey studying a bachelor's in fashion at RMIT, before dropping out after the first year to start my own fashion label. I pursued that for a few years but started to feel like I wasn't truly aligned with it. After giving birth to my daughters, naturally I spent more time at home and, like many stay-at-home mums, I decided upon a new hobby and went back to RMIT, this time to study interior design and decoration. Thereafter, I felt like I truly found my calling. 
I started out my career mainly as a decorator, but I also gravitated towards styling and art direction. I formed design concepts and a passion for bespoke pieces, but more than anything, I just felt my aesthetic was simply different. I felt like I could offer an alternative and unique visual perspective to the market. Shoot-styling gives you so much more freedom to inspire, set a tone and express yourself. Nowadays, I feel so blessed to have so much trust from my clients, both in interiors and product styling, to really ideate and execute fun and impactful imagery.
What are the most pivotal points when styling a space?
Understanding your client and their lifestyle is key, then comprehending the floor plan and layout of the space, as well as the scale of the pieces. From there, it's all about balance, finding the harmony of light and dark, smooth and rough, patterned and plain, and not trying to nail it perfectly from the jump. A home is a collection of layers and some of those layers take time.
What are the current in-demand styles of coffee table and how are they being styled
At the moment, it's all about the "offbeat" - the bespoke and the unusual. Exotic timber and marble, unusual shapes, and a feeling that a space and its pieces have been accumulated over time. The styling for me is always a mix between sculptural and functional. I love a singular large scale statement piece, or a delicate collection of books, ceramics and a single floral stem. Simple and striking.
How can marble/stone enhance a space?
I'm not much of a print person, and have always used natural stone as my addition to break up and layer an interior. Sometimes it can feel a bit blocky using a multitude of plain materials, even if they are very textured, so the addition of a striking patterned stone elevates a space instantly, creating a lot of visual stimuli. It's also a great way to subtly inject colour.
What is your favourite Just Adele piece, and how would you style it?   
For me, it's always been the Viola plinth! It's such a versatile pieces that can stand alone with a sculpture or a vase full of flowers. It can be paired with other plinths in different height, and mixed stone creates a sculptural gallery feel in any space. From an entry to a living/ dining area, the display can be constantly rotating or the plinth can be left to stand beautifully on its own as a singular piece.
Follow the links below to view Karin Bochnik's work and view her favourite Just Adele piece.
https://www.instagram.com/karinbochnikstylist/