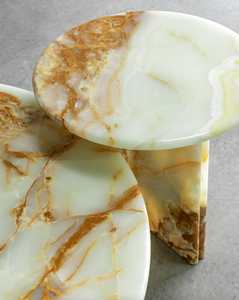 The tale of Onda
22.07.22
The Onda stone table has marked a combination of historic design influence and modernity for Just Adele. The design is an ode to classicism told through natural Caramel Spider and Green Onyx stone. 
Translating to "wave" in Italian, the name Onda echoes the double bullnose feature situated on the table edging. Through the love of artisanal techniques and subsequent inspiration, this collection came to life, designed in two different sizes.
As owner Adele muses, "the collection was designed with simplicity in mind, without compromising artistic integrity and quality. I loved the ability to introduce the beautiful Onyx stone option to our collection." 
Crafted with a conscious outlook, the Onda collection comprises rare materiality and stone, with the premium Green Onyx ushering in a new frontier of organic stone for Just Adele. 
"Onda can be the centrepiece for any space, nestled together as a duo or individually. The Onyx is like a work of art in its own right, and with letting the natural stone be the hero, less is really more. The Side Table is also a suitable accompaniment as an occasional table or bedside", says Adele.
With the option to customize the stone in an array of bespoke options, one's desire cannot be left unfulfilled in terms of styling options, with a deep appreciation for the pure joy of Italian marble delighting both company and client alike.
Explore the Onda collection online or by visiting our Richmond Showroom and allow yourself to envision how you could blend heritage elements with modern design within your space.